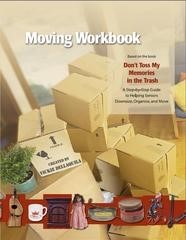 Moving Workbook
The Moving Workbook is based on the book, Don't Toss My Memories in the Trash-A Step-by-Step Guide to Helping Seniors Downsize, Organize, and Move. This 32 page workbook will help keep you organized for you upcoming move. The workbook is filled with practical forms that will help you easily track the details of your upcoming move. It is large (8 1/2 x 11) with large print, and is meant to be written in.
Included in this workbook:
- A checklist of rooms to downsize
- A form for mover information
- Forms for antique, eBay information
- A place to keep track of charities
- A furniture placement floor plan grid
- Real estate agent and other service provider forms
- Utilities form
- Methods for keeping track of address changes
- And more!
$5.95 + S&H
Add To Cart