Virtual Organizing
Do you struggle with keeping goals to get a project done?
Do you have trouble with time management?
Do you feel overwhelmed when it comes to de-cluttering and organizing a space in your home or office?
Do you struggle with chronic disorganization?
Do you need to downsize or help a loved one downsize and don't know where to start?
Do you have limited time to schedule time for a Professional Organizer to come in and help you?
Do you have limited funds and can only pay for an hour or two of a Professional Organizer's time?



Virtual Organizing may be for you!


Virtual Organizing is a process that can help you organize your space without a Professional Organizer being physically present. Whether it is a room or your whole home, Virtual Organizing can also help you set goals and keep you on track to get a big project done.

Utilizing photographs, the Professional Organizer communicates with you via phone, Skype, Zoom, or FaceTime. We virtually connect with you wherever you are – whether you are in Pittsburgh or around the world!



A good candidate for Virtual Organizing:
Has the ability to do some physical organizing on your own with a plan that is laid out for you
Can connect via phone, Skype, FaceTime, or Zoom
Can send digital or physical photographs
Has the ability to complete assigned tasks between sessions (You certainly don't have to complete any tasks you don't want; however, the organizing process moves along faster if you do)
Has limited time to devote to a Professional Organizer coming into your home
Is on a limited budget
Will follow a plan and complete homework



How does it work?


We will start with a complimentary thirty minute phone conversation to understand your goals for organization. We will then meet weekly, bi-weekly, or monthly in one or two hour scheduled sessions. The Professional Organizer and the client will determine the length of the session and if any homework will be assigned to the client. This is also based on schedule and availability. Sessions are paid via MasterCard, Visa, or check upon booking.



What makes Organization Rules qualified?


After years of providing organizing services on site at a client's home, Vickie discovered another way to provide organizing services to clients – virtually! As our world becomes more digital, organizing services have become digital as well.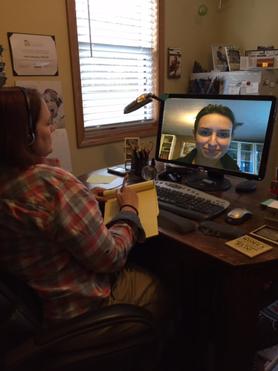 ---
Testimonials
"You have profoundly changed my life, as I tell anyone who will listen. I don't have the words to describe how grateful I am to you. I'd say you gave me my life back, but it's never been like this before. This is all new. So thank you for giving me a life. I'm having so much more fun than I knew was possible, and that's only because you literally made the room for it. You are a treasure. I will forever be grateful."
-- Susan
"I had hit a wall with trying to do basement organizing on my own. It was difficult to decide which sentimental papers to keep. Thankfully with Vickie's help, I was able to get motivated and equipped to make the best decisions about what I want to keep and save for my legacy. I highly recommend Vickie to help you make decisions and get your organizing done in a productive way!"
-- Kristin
"I used Vickie's "Virtual Organizing" sessions to help declutter my house. We worked room by room using Zoom, and every week she'd give me homework and check in on me to see how I was doing. She was non-judgmental and had a lot of creative, helpful suggestions. I really felt like she was on my team the whole time! I really love how it feels to live in a less cluttered space, and I feel like I have the tools to keep it that way. I definitely recommend her services! "
-- Sara , Pittsburgh, PA