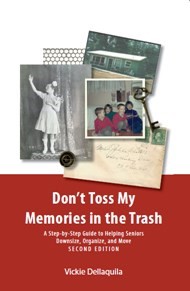 Don't Toss My Memories in the Trash - Second Edition
A Step-by-Step Guide to Helping Seniors Downsize, Organize, and Move
Vickie Dellaquila draws on her experience as a professional organizer and senior move manager to share her most valuable tips on downsizing and moving. Here is a book that will help you downsize, organize, and move in an organized, efficient, and caring manner. With her background in healthcare and social services, Vickie brings expertise and warmth to helping seniors face the physical and emotional aspects of moving to a new home. Whether you are a senior embarking on this new chapter of your life or are helping family members or friends downsize and move, this book is your roadmap.
The first part of this book will guide you through the decision to downsize. Relatable anecdotes from Vickie's clients help you confront difficult questions like, "What happens if I fall?" or "How will it feel to leave my house?" Vickie touches on all aspects of the downsizing conversation, including topics such as moving versus aging in place, different types of retirement living, and health and financial considerations.
If you decide to move forward, parts two and three of the book will guide you through the downsizing and moving process. Vickie shares strategies for paring down possessions to fit a new space and/or lifestyle, advice for navigating the emotional challenges and changed familial relationships, and tips for when to call in a professional. She tackles subjects like, "When should I start?", "How do you sell antiques?" and "What should I donate versus throw away?"
When it comes to moving, Vickie will walk you through every step of your move from interviewing movers to tackling the logistics of your moving day. She even covers steps you can take to keep clutter from accumulating in your life again. This second edition includes updated information on organizing with new technology and updated resources for professional help, charities, and more.
$14.00 + S&H
Add To Cart