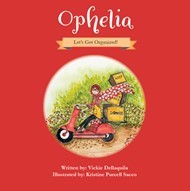 JUST RELEASED - Ophelia - Let's Get Organized (paperback)
Let Ophelia help your child learn some organizing tips.
Lucy has trouble finding things in her room and it's starting to cause her trouble. A surprise visit from Ophelia the Organizer gives her some help and tips to keep herself organized.
$11.95 + S&H
Add To Cart